One of the Top Rated Resorts in Jim Corbett Jungles
About Most Loved Resort in Jim Corbett - Winsome Resort and Spa
Welcome to the one of the best resorts in Jim Corbett- Winsome Resort. Winsome Resort and Spa is a serene yet bustling Resort right touching the boundary of the forest at the Jim Corbett National Park. Spread across 17 bighas, it is your perfect stay-over destination on the Corbett Jungle holiday. Winsome Resort is newly constructed Resort of Mukut hotel and Resort (p) Ltd Group of Hotels – A Name to reckon with in North India.
Jim Corbett National Park is part of the Corbett Tiger Reserve in the Nainital district of the picturesque Uttarakhand state. The awe-struck beauty of the Corbett National Park is multiplied by its richness of tigers that roam around still as freely in their hinterland. The Jim Corbett National park is the oldest and one of the most recognized National parks in India.
Jim Corbett National Park: India First Wildlife Reserve
Jim Corbett National Park is the most exciting ecotourism destination in India encapsulating 488 different species of plants and a diverse variety of fauna that includes 580 bird species and 25 reptile species. Located in Nainital district of Uttarakhand, Jim Corbett National Park is the oldest national park in India named after great hunter turned conservationist Jim Corbett. Jim Corbett National park was established in 1936 as a part of Indian wildlife protection initiative to ensure the protection of endangered Tigers in India, especially the Bengal tigers. Jim Corbett Park is been the first wildlife reserve of India extended over an area of more than 520 sq km in the Himalayan foothills.
Covering more than 520 sq km area of hills, river belts, marshy depressions, grass lands and the large lake, Jim Corbett National Park is a heaven for the adventure seekers and wildlife adventure lovers from across the world. Dense moist deciduous forest mainly comprises of Sal, haldu, pipal, Rohini and mango trees cover almost 73 per cent of Jim Corbett National Park. Winter nights in Corbett national park are generally cold but the days are bright and quite sunny. Jim Corbett Park receives rains from July to September.
Read More
Our Rooms
Luxury Rooms at Luxury Resort in Jim Corbett
Amenities offered by 4 star resort in jim corbett-Winsome Resort, including 24 hour front desk, room service, spa, gym, Free Wifi, Taking Covid-19 safety measures, Restaurant ( 2000 sq ft) , and newspaper. In addition, guests can enjoy a pool and free breakfast during their visit. As an added convenience, there is free parking available to guests. Winsome Resort is one of the top rated resort in uttarakhand as places to stay in Jim Corbett National Park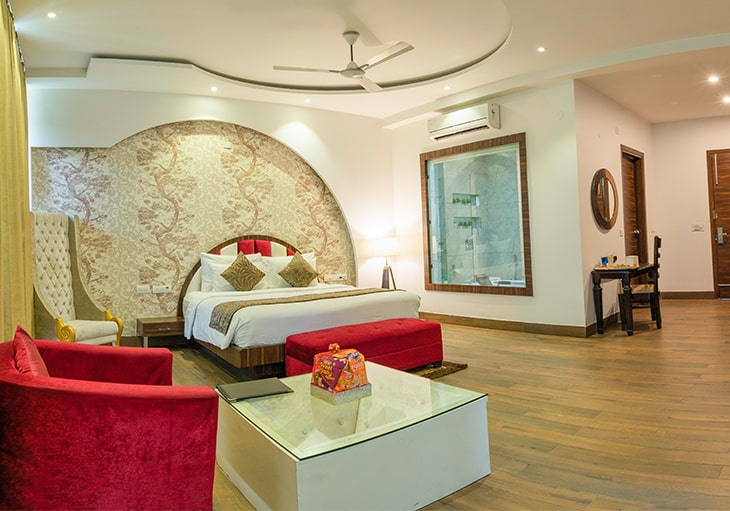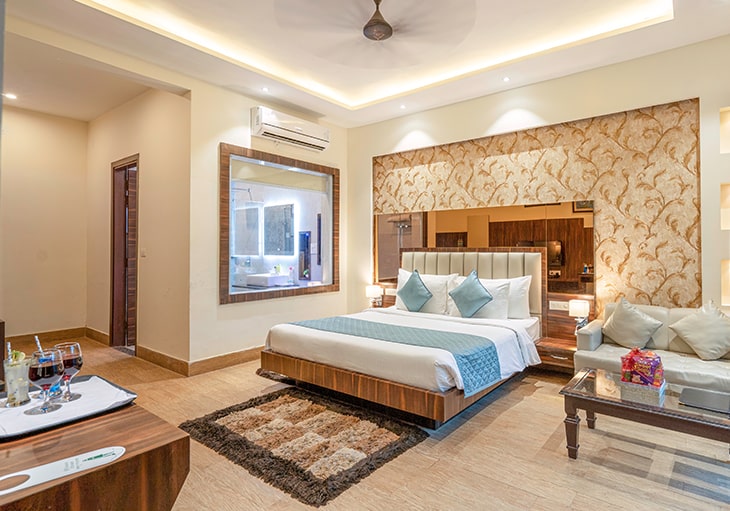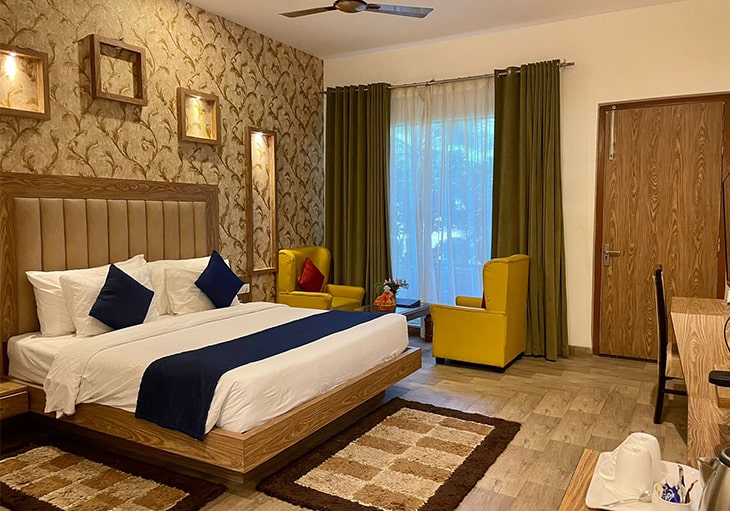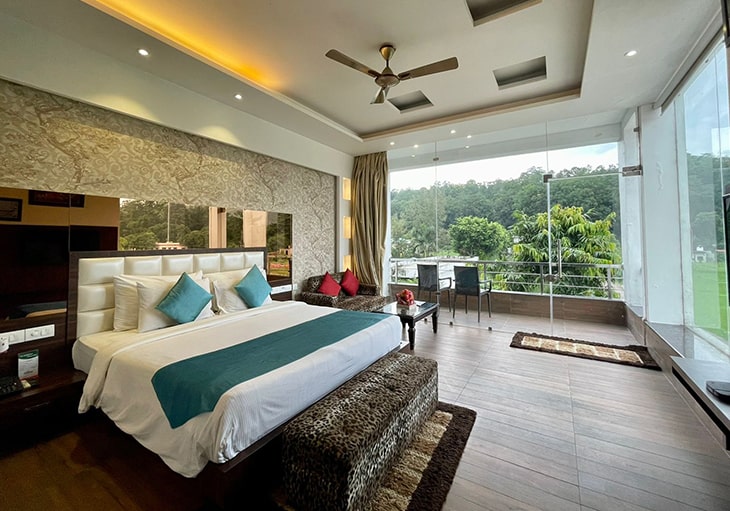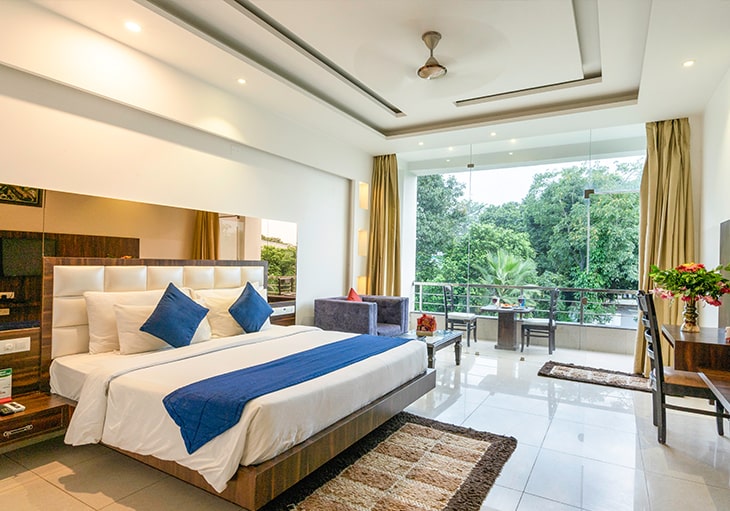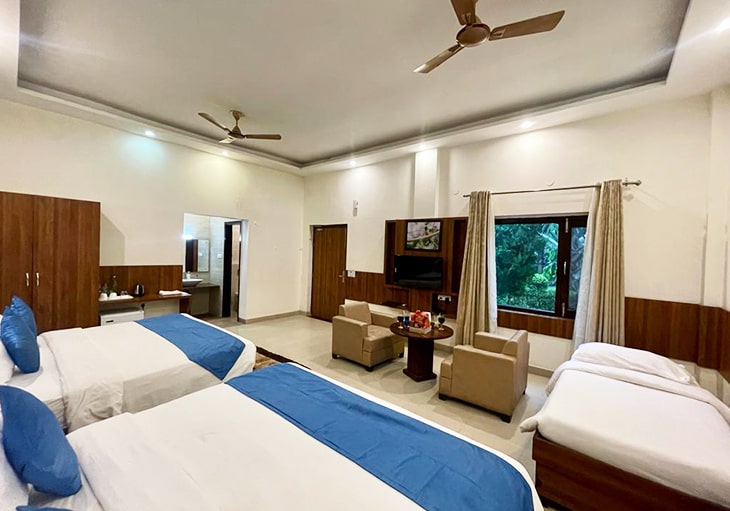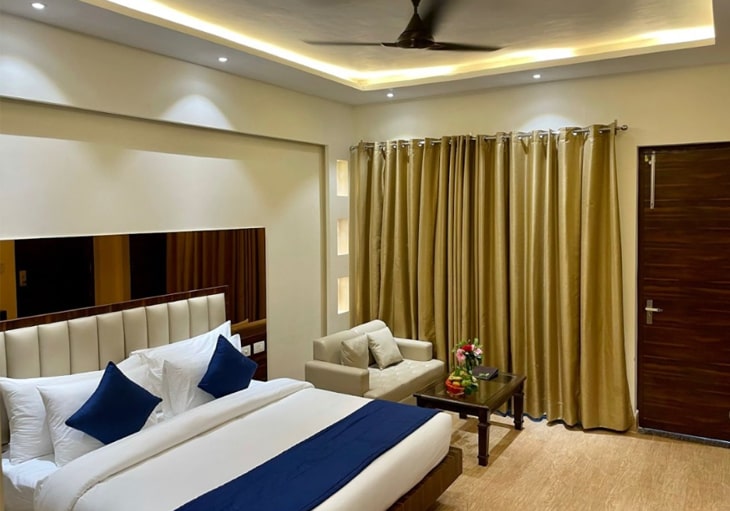 gallery
Experience 4 Star Luxury Corbett Jungle Resort
Perfect Destination for a Blissful & Relaxation Weekend Getaway in Jim Corbett
Winsome Resort, Spa & Hotel - Jungle, Farm and Pool
Winsome Resort and Spa, Uttarakhand is located in the Kumaon district at Ramnagar, just 252.1 km (via NH9) from Delhi International Airport, and a 4 hr 45 min (221.2 km) drive from Dehradun Airport. Our 4 star luxury resort & hotel in Jim Corbett National Park is also the perfect destination for a blissful getaway from Delhi, Ghaziabad, Gurugram, Agra & Jaipur.
Winsome Resort - Distances & How to Reach
Winsome Resort's Nearby locations and learn how to reach
260 Km From Delhi ( By Car)
150 Km from Pant Nagar Airport
7 Km from Ram Nagar Railway station
Dhikala Safari Gate 20 km.
Bijrani Safari Gate :-9 Km
Dhela Safari Gate :-20 km
Jhirna Safari Gate :-20 km
Durgadevi Safari Gate :- 30 km
Sitavani Safari Gate:- 15 km
Read More