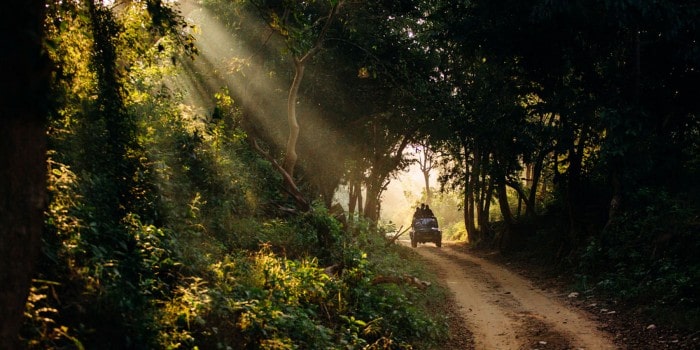 Jim Corbett National Park is the most exciting ecotourism destination in India encapsulating 488 different species of plants and a diverse variety of fauna that includes 580 bird species and 25 reptile species. Located in Nainital district of Uttarakhand, Jim Corbett National Park is the oldest national park in India named after great hunter turned conservationist Jim Corbett. Jim Corbett National park was established in 1936 as a part of Indian wildlife protection initiative to ensure the protection of endangered Tigers in India, especially the Bengal tigers. Jim Corbett Park is been the first wildlife reserve of India extended over an area of more than 520 sq km in the Himalayan foothills.
Covering more than 520 sq km area of hills, river belts, marshy depressions, grass lands and the large lake, Jim Corbett National Park is a heaven for the adventure seekers and wildlife adventure lovers from across the world. Dense moist deciduous forest mainly comprises of Sal, haldu, pipal, Rohini and mango trees cover almost 73 per cent of Jim Corbett National Park. Winter nights in Corbett national park are generally cold but the days are bright and quite sunny. Jim Corbett Park receives rains from July to September.
Tops in Tiger Population in India
Jim Corbett National Park is a shelter for Tigers and a refuge for its prey as well. Among the major wildlife attractions of Jim Corbett National Park are nocturnal cats like Leopard Cat, Jungle Cat, and Fishing Cat; sloth bear, black bear and wild dogs known as Dole. You can also find some small residence of Jim Corbett Park such as Himalayan Palm Civet, Indian Gray Mongoose, Common Otter, Blacknaped Hare and Porcupine. Elephants are among one of the most sought-after attractions of Jim Corbett National Park. One can also spot the long-snouted, fish-eating Gharial Crocodile and Mugger Crocodile along the Ramganga river shore. Then there are four kinds of Deer, Wild Boar, Jackal, Langur and Rhesus Monkeys that move your adventure lover heart by the kind of diversity they add to glory and wild life of Jim Corbett National Park. Jeeps Safari seems to be the most convenient way to travel within Jim Corbett Park. These jeeps can be rented for the park trips from any of the travel agencies at Ramnagar. The essence of wildlife viewing opportunity you get at Jim Corbett National Park remains in your heart forever.
The best visiting season of Jim Corbett Park is from November 15 to June 15 every year. It should be noted that Jim Corbett National Park remains closed between June 16 and November 14 because at this time of the year monsoons flood the river beds and cut the fragile road links. Jim Corbett National Park is home to in numerous kind of beautiful birds. Pond Heron, Crested Hawk Eagle, Booted Hawk Eagle, Pallas Fishing Eagle, Himalayan Grey-headed Fishing Eagle, Cinereous Vulture, Crested Serpent Eagle, Kestrel, Black Partridge, Himalayan Pied Kingfisher, Lesser Pied Kingfisher, Common Kingfisher, Stork billed Kingfisher, Green Bee eater, Indian Roller are a few names among the huge list of birds found in Jim Corbett Park. Best time for birding at Jim Corbett is November to March. Visiting Jim Corbett National park, without a minute doubt, is a rewarding experience for ornithologists and bird lovers not only from India but from across the globe.
The Corbett National Park is at a distance of about 145kms from Lucknow and 51kms away from Ramnagar. The route to be followed spans Hapur- Moradabd- Ramnagar. The route from Lucknow goes like Bareilly-Kichha-Rudrapur-Doraha-Kashipur. Bijrani is 9 kilometers from Ramnagar. Phoolbagh, Pantnagar at a distance of 50-kms from Jim Corbett Park is the nearest airport whereas if we talk about nearest international airport, then it's -Delhi which is 300 km from Jim Corbett National Park. There are many hotels and resorts at Ram Nagar for accommodations. So getting to Jim Corbett National Park and accommodation won't be a problem for you. So enjoy the most exhilarating and diverse ecological tourist destination by visiting Jim Corbett National Park.